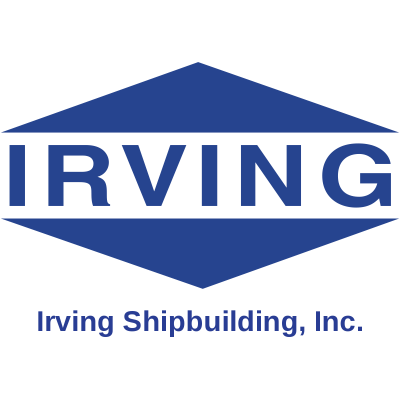 Designated Official & Export Classification Specialist
Irving Shipbuilding
in Dartmouth, NS
DESIGNATED OFFICIAL & EXPORT CLASSIFICATION SPECIALIST
Located at 3099 Barrington Street in Halifax, Nova Scotia, Canada, B3K 5M7, and 35 Micmac Boulevard, Dartmouth, Nova Scotia, Canada, B3A4Y8, Irving Shipbuilding has a proud history as Canada's shipbuilder. A proud member of the J.D. Irving, Limited group of companies, we have been building quality vessels and fabricated modules for more than 50 years, and our Halifax Shipyard has been at the forefront of Canadian shipbuilding for 130 years. Since 2012, we have invested more than $400 million in facilities, people, processes, and technology, making Halifax Shipyard one of the most modern and capable shipyards in North America. Over the next 30 years our shipbuilders will construct 20 modern patrol ships and surface combatants for the Royal Canadian Navy as part of Canada's National Shipbuilding Strategy, the largest defence procurement in Canadian history. This year, we delivered the lead Arctic and Offshore Patrol Ship, the largest Navy ship built in Canada in 50 years and we're just getting started. The second ship will be delivered in 2021. We're growing our team with career-defining opportunities that will revitalize Canada's shipbuilding industry and provide Canada's sailors with the ships they need to protect Canada's interests at home and abroad. Our workforce of over 2,000 will grow to more than 2,800 at peak construction of the Canadian Surface Combatants. We have built more than 80% of Canada's current combatant fleet and continue to perform maintenance and modernization work on the ships, including the Halifax-class frigates.
Irving Shipbuilding Inc. is seeking a
?Designated Official & Export Classification Specialist.
This is a permanent full-time role based in Halifax Regional Municipality, Nova Scotia. The primary language of work is English.
We encourage applications from qualified African Nova Scotians, racially visible persons, women (applying for non-traditional positions), persons with disabilities, Aboriginal persons and persons of the LGBTQ community. ISI encourages applicants to self-identify in the cover letter/resume portion of your application. Irving Shipbuilding Inc. is committed to the principle of equal opportunity in its employment practices and to providing an environment where all employees feel supported and valued.
Qualifications:
An undergraduate degree in engineering, international business, global logistics, supply chain, information technology, or equivalent

Proficient interviewing skills

Experience providing administrative support

Strong attention to details

Intermediate-to-Advanced level Microsoft Office skills

Proficient communication skills, both verbal and written, as well as presentation and training skills; must be able to effectively communicate across all management levels

Comfortable working in a fast-paced environment and able to balance multiple priorities
Preference will be given to candidates who have the following level of previous experience :

Designated Official and / or Export Classifier

Experience working within a Federal Government Contract environment (aerospace / defence industries)

Experience with Customs Administration & HTS Classification

Experience with Program Management, IT Systems, Process Controls, and / or Quality Assurance
All successful applicants must meet requirements for Canadian Controlled Goods Program (CGP), Canadian Government Security clearance, and U.S. International Traffic in Arms Regulations (ITAR).
Responsibilities:

Reporting to the Manager, Export Compliance, & Controlled Goods, the Designated Official & Export Classification Specialist will be responsible for evaluating and processing security applications, as well as performing Export Classification tasks, including the establishment of Export Classification equivalencies within 3rd country Jurisdictions relevant to ISI's business

Validate and establish Export Classifications of incoming items including documents, tech data, hardware, and software

Establish Export Classifications equivalencies across multiple jurisdictions

Create and update policies and procedures relating to all Export Classification matters; ensure creation of robust audit trails

Create Export Classification training materials, deliver training, and update materials as needed

Create processes for periodic sample audits on Export Classifications

Conduct security assessments

Perform and maintain security evaluations

Conduct applicant interviews

Submit applications to CGD ("Controlled Goods Directorate", Canada) for exemptions

Prepare, maintain, and log project documents in both electronic and paper filing systems

Coordinate security documentation requirements

Conduct security briefs and orientation

Perform background investigations
What We Offer:
Irving Shipbuilding is proud to offer a competitive salary and benefits package, including but not limited to:

A flexible medical, dental, and vision plan.

Employee & Family Assistance Programs.

RRSP matching program.

Health & Wellness reimbursements.

Opportunities to take part in job related training and development.

Growth and progression opportunities within Irving Shipbuilding and the larger network of the JD Irving group of companies.
Please be advised that some positions within our business have been designated as 'Safety Sensitive' where the employee holding the position has a heightened responsibility for his/her own safety or the safety of others due to the nature of the job. If this is the case, you will be informed in the interview process.
For further details, please contact Rercruitment at recruitment@irvingshipbuilding.com.
To Apply for this Career Opportunity :
Please complete the online application form. An up-to-date resume of past experience and education is required.
All applications will be reviewed by one of our recruiters. If the recruiter sees a potential opportunity (current or future) that matches your skills and experience, you will be contacted to discuss your qualifications for a position with Irving Shipbuilding.
We thank all candidates for their interest, however, only those selected for interviews will be contacted.
To learn more about our products and services, click here.

Irving Shipbuilding Inc. is committed to the principle of equal opportunity in its employment practices and to providing an environment free from discrimination and harassment for all employees.
We do not accept unsolicited resumes from search firms or employment agencies, and we are not responsible for any fees related to unsolicited resumes.