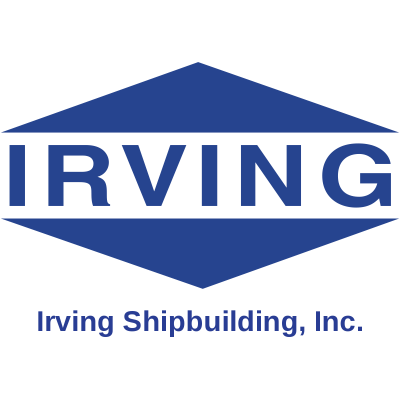 Chief Operating Officer
Irving Shipbuilding
in Halifax, NS
CHIEF OPERATING OFFICER
Located at 3099 Barrington Street in Halifax, Nova Scotia, Canada, B3K 5M7, and 35 Micmac Boulevard, Dartmouth, Nova Scotia, Canada, B3A4Y8, Irving Shipbuilding has a proud history as Canada's shipbuilder. A proud member of the J.D. Irving, Limited group of companies, we have been building quality vessels and fabricated modules for more than 50 years, and our Halifax Shipyard has been at the forefront of Canadian shipbuilding for 130 years.
Since 2012, we have invested more than $400 million in facilities, people, processes, and technology, making Halifax Shipyard one of the most modern and capable shipyards in North America.
Over the next 30 years our shipbuilders will construct 20 modern patrol ships and surface combatants for the Royal Canadian Navy as part of Canada's National Shipbuilding Strategy, the largest defence procurement in Canadian history.
This year, we delivered the lead Arctic and Offshore Patrol Ship, the largest Navy ship built in Canada in 50 years. And we're just getting started. The second ship will be delivered in 2021.
We're growing our team with career-defining opportunities that will revitalize Canada's shipbuilding industry and provide Canada's sailors with the ships they need to protect Canada's interests at home and abroad. Our workforce of over 2,000 will grow to more than 2,800 at peak construction of the Canadian Surface Combatants. We have built more than 80% of Canada's current combatant fleet and continue to perform maintenance and modernization work on the ships, including the Halifax-class frigates.
The
Chief Operating Officer
role is a permanent, full-time position based in the Halifax Regional Municipality, Nova Scotia reporting to the President. The language of work is English.
In the near-term, ISI has ongoing operations at various stages for the following highly visible Royal Canadian Navy contracts. As such, this individual, in partnership with the President, will provide leadership in ensuring that ISI successfully executes construction and repair work, including each of these critical contracts:
Construction of Arctic and Offshore Patrol Ships (AOPS) for the Royal Canadian Navy and Coast Guard. A $3B contract, as part of the National Shipbuilding Strategy (NSS). A fleet of eight ships (six for the Navy and two for the Coast Guard).
Maintenance Contract for Halifax-class frigates. Maintenance on these ships has been ongoing since 2011 and will continue to end of life. Eventually, the Halifax-class frigates, which were introduced into service in the 1990s, will be replaced by Canadian Surface Combatants.
Key Responsibilities:
The Chief Operating Officer has leadership and management responsibility for all active production operations (both new build and repair), the engineering and design, planning and supporting IT systems, procurement, and logistics which support the production operations for all current and future contracts.
Success in this role will be measured by the successful candidate's ability to demonstrate strong leadership, hands on operations, business acumen and financial skills to optimally position ISI to deliver contracts on time and within budget. This will involve being a strategic problem-solver, using sound judgement, and anticipating, communicating, and navigating challenges frequently associated with managing complex contracts with combat systems.
The Chief Operating Officer will ensure that ISI delivers against commitments, within budget and on time by:
Leveraging his/her financial and business acumen to develop efficiencies, as well as track, analyze and trend project costs to prevent and/or resolve overruns.
Demonstrating flexibility and strong problem-solving skills to successfully navigate potential challenges.
Holding self and others accountable to meet customer expectations and fulfil commitments. This includes reviewing performance and progress on a regular basis to ensure teams are achieving results.
Empowering others: s/he must be a "hands-on" leader and will delve into operations to assure that his/her team receives feedback, establishes goals to achieve results, and understands the metrics by which they are being measured.
Successful Candidate will possess the following Required Qualifications:
15 years of relevant industry experience. Experience gained in the shipbuilding, submarine, or ship repair industries as an executive, with P&L experience. Retired Naval flag officers with comparable experience also ideal.
Master's Degree in Mechanical Engineering or Naval Architecture.
Proven ability to lead and manage teams of 1,000 people; s/he will have led diverse teams spanning operations, production, planning and engineering, and be well-versed in each area.
Proven ability to work with Government customers, to include complex contracts.
Demonstrated track record of delivering technically sophisticated products and combat systems, preferably in partnership with Defense customers.
Additionally, the successful applicant will possess and demonstrate the following attributes:
Integrity
Commitment to safety
Strong business acumen and problem-solver
Team-builder
Continuous improvement mindset
All successful applicants must meet requirements for Canadian Controlled Goods Program (CGP), Canadian Government Security clearance, and U.S. International Traffic in Arms Regulations (ITAR). This position also requires NATO security clearance.
What We Offer:
Irving Shipbuilding is proud to offer a competitive salary and benefits package, including but not limited to medical, dental, and vision.
For additional information please contact:
Jim Rennie:
rennie.jim@irvingshipbuilding.com
To Apply for this Career Opportunity:
Please complete the online application form. An up-to-date resume of past experience and education is required.
All applications will be reviewed by one of our recruiters. If the recruiter sees a potential opportunity (current or future) that matches your skills and experience, you will be contacted to discuss your qualifications for a position with Irving Shipbuilding.
We thank all candidates for their interest, however, only those selected for interviews will be contacted.
To learn more about our products and services, click
here
.
Irving Shipbuilding Inc. is committed to the principle of equal opportunity in its employment practices and to providing an environment free from discrimination and harassment for all employees.
We do not accept unsolicited resumes from search firms or employment agencies, and we are not responsible for any fees related to unsolicited resumes.