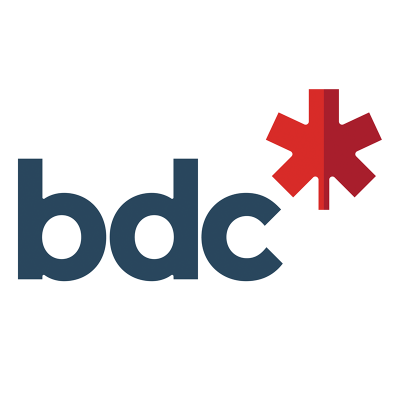 SENIOR COMMERCIAL ACCOUNT MANAGER
No other bank is doing what we do.
At BDC, we're devoted to Canadian entrepreneurs. We're also dedicated to our employees. Adaptable. Inspiring. Different. There's a reason we like to work here and we think you'll like it too.
POSITION OVERVIEW
As a key player in financing and credit, you will use your talent and creativity to make a real impact on the success of Canadian entrepreneurs. You will use your strong relationship skills and network of contacts to identify opportunities to accelerate Canadian entrepreneurs' growth and develop business opportunities in both financing and consulting. If you are passionate about a career in an organization that is one of the top 100 employers in Canada, this is the place for you!
CHALLENGES TO BE MET
In a typical week, you would:
Meet with entrepreneurs, clients and prospects, and discuss with them the specifics of their business in order to identify the issues, provide them with advice and identify, if applicable, a BDC service offering appropriate to their needs;
Execute your marketing plan, which is aligned with the Business Centre's objectives. This will allow you to ensure the growth and retention of current clients in your portfolio while acquiring new clients and creating a business opportunity pipeline;
Analyze, negotiate and present high-quality loan proposals while exercising sound judgment on credit;
Be active in the local business community by effectively networking within various associations and chambers of commerce in order to develop business relationships and obtain references that will facilitate new client acquisition.
WHAT WE ARE LOOKING FOR
If you can answer YES to the following questions, you could be the person we are looking for!
Do you have a bachelor's degree in commerce or business administration?
Do you have a keen interest in entrepreneurship, more than 5 years' experience and a good understanding of the business world?
Do you have a demonstrated ability in business development and delivering on your objectives?
Do you have a sixth sense that lets you identify entrepreneurs' business issues and needs?
Do your clients and business contacts remember you because your advice works and you provide outstanding customer service?
Are you a team player who creates effective and lasting relationships with your peers, business contacts and external partners?
Are you a strong negotiator who is focused on results?
For certain geographical locations, a driver's license as well as access to a vehicle may be required.
If you are keen to join a high-performance team and value ethics and client connection, apply today!
EQUAL OPPORTUNITY EMPLOYER
At BDC, we value diversity in our workforce and encourage all qualified candidates to apply. We appreciate all responses and advise that only those candidates selected for an interview will be contacted.