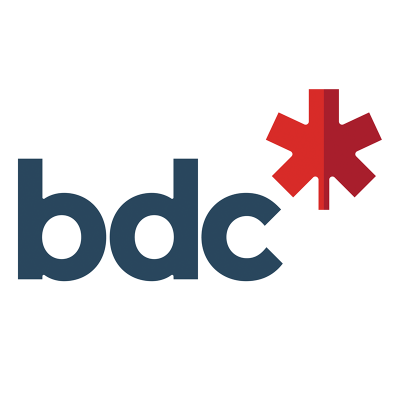 CLIENT PARTNER/SENIOR CLIENT PARTNER, BDC ADVISORY SERVICES
No other bank is doing what we do.
At BDC, we're devoted to Canadian entrepreneurs. We're also dedicated to our employees. Adaptable. Inspiring. Different. There's a reason we like to work here and we think you'll like it too.
POSITION OVERVIEW
T h e Client Partner/ Senior Client Partner, BDC Advisory Services, is responsible for carrying out bu si n ess d e ve l o p ment a c t ivities, ass e ssing cl i ents' bu si n ess n e eds and p ro p o s ing advisory services to increase/ensure t h e c o m p e titi v eness o f Can ad ian entrepreneurs' bu si n ess e s. He o r s h e w o r ks c l o se l y with t h e Advisory Services d eli v ery te a ms and w i th F in a n ci n g t o e n su r e p ro p er d el i ve r y o f advisory services , cl i ent satis f act i o n and achievement of sales objectives .
CHALLENGES TO BE MET
Act as a key player with BDC Advisory Services and carry out business development activities to maintain and nurture a solid pipeline of opportunities in order to achieve sales objectives.
Adopt a value-added business (or sales) approach by conducting research and compiling strategic intelligence on clients, their business lines and economic and market trends.
Through strategic questioning, discussion and the use of diagnostic tools, assess clients' business requirements and prioritize them to increase clients' competitiveness and recommend the right advisory solutions.
Act as a BDC Advisory Services contact and manage the client experience; working closely with the appropriate delivery team and other internal stakeholders, ensure quality proposal development, smooth delivery of solutions and client satisfaction.
Develop a growing role as your client's go to person for general business advice that extends beyond the immediate scope of the project and aligns with their strategic objectives.
Manage and maintain excellent working relationships with all internal stakeholders in and beyond BDC Advisory Services.
Continuously improve knowledge on areas pertaining to the economic conditions and key industry sectors within assigned geographical territory. Regularly gather market intelligence to stay aware of the changing needs and issues of businesses in the region.
Leverage corporate assets and cross-functional capabilities to ensure maximized client value and develop additional BDC opportunities.
Stay up to date on BDC's systems and technology environment, policies and procedures, ISO norms and BDC Advisory Services offers and solutions as well as general knowledge on other business lines offerings.
WHAT WE ARE LOOKING FOR
Bachelor's degree in commerce, business administration or a related discipline
Master's degree an asset
10 years of experience in sales/business development within the services sector or within a consulting firm
Proven track record of achieving business development objectives
Experience with or in the financial services sector is an asset
Experience working with SMEs is an asset
Experience with a wide array of industries is an asset
Strong business acumen
Results orientation
Strategic insight and high emotional intelligence
Strong customer relationship skills
Innovative mindset and creative problem solving skills
Self-motivation
Excellent communication and negotiation skills
Team player with a corporate mindset
Marked ability to build and maintain productive relationships and to work with internal colleagues and client groups at all levels
Effective written and verbal communication skills in both official languages
EQUAL OPPORTUNITY EMPLOYER
At BDC, we value diversity in our workforce and encourage all qualified candidates to apply. We appreciate all responses and advise that only those candidates selected for an interview will be contacted.