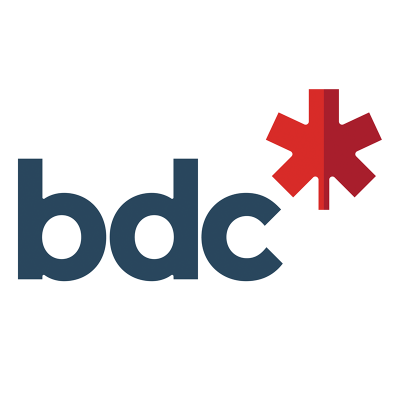 MANAGER, ENTREPRENEURSHIP CENTRE
No other bank is doing what we do.
At BDC, we're devoted to Canadian entrepreneurs. We're also dedicated to our employees. Adaptable. Inspiring. Different. There's a reason we like to work here and we think you'll like it too.
CHALLENGES TO BE MET Leadership & People
Accountable to ensure appropriate level of depth and skill set by using the levers (hire, develop, coach and motivate employees) to deliver on a balanced profitable growth
Provide leadership and direction in the marketing and delivery of Financing and Consulting offering while maintaining accountability for the activities, quality and profitability of such
Be the Change agent in the dissemination of information to ensure that all employees are kept abreast of BDC's operational changes, business rules, policies and procedures, mandate and objectives
Develop and implement a branch sales/market plan to support the portfolio growth strategy for Financing and Consulting for the territory that is aligned with the regional strategy and manage business activity
Results, Sales & Relationship
Manage the existing client relationships by actively monitoring the profitability of BDC's relationship with clients and proactively assess client needs to identify opportunities and convert them into results while meeting the client's immediate and broader business objectives
Actively plan and develop client acquisition strategies that lead to results and manage key professional relationship to ensure a consistent flow of activities.
Keep abreast of local business opportunities while maintaining active profile in the business community through participation in associations such as Chambers of Commerce, Boards of Trade, etc.
Manage branch activities via the team to achieve/exceed results by regularly assessing the quality/quantity of loans and the portfolio, pipeline progress, product results, activity distribution and client satisfaction
Transactions, Portfolio, Risk & Profitability
Accountable for compliance to business rules, policies and procedures in all aspects of the life of a loan (business development, underwriting, security & disbursement and administration & relationship)
Authorize, decline or recommend loan applications, administration and disbursements within established parameters and ensure a high caliber of credit analysis and due diligence on all transactions with strong focus on credit risk, profitability and quality
Proactively manage high-risk clients and communicate with internal partners to restructure deals, remediate risks and minimize loss
Accountable for the Profit and Loss statement of the operational unit, the portfolio growth, its efficiency, the risk level and pricing of transactions as well as the difference between the predictive models (Risk rating, forecasted loss rate) and the actual performance (which represents the sound judgment)
WHAT WE ARE LOOKING FOR
Bachelor degree in commerce or business administration
Experience in leading a team at the BDC or with a previous employer
Demonstrated strength in business development and customer relationship management skills
Leadership and ability to manage a team
Thorough knowledge of BDC products, services, policies, processes and procedures and ability to provide high quality customer service to internal/external clients
Sound credit judgment coupled with a strong understanding of credit policies and practices
Ability to actively address situations where potential risks are identified
Ability to maintain sound account management practices and a profitable loan portfolio
Good time management and priority setting skills in order to meet critical deadlines
Strong business acumen
Thorough understanding of the dynamics of the small business environment
Bilingualism may be required depending on the location

EQUAL OPPORTUNITY EMPLOYER
At BDC, we value diversity in our workforce and encourage all qualified candidates to apply. We appreciate all responses and advise that only those candidates selected for an interview will be contacted.