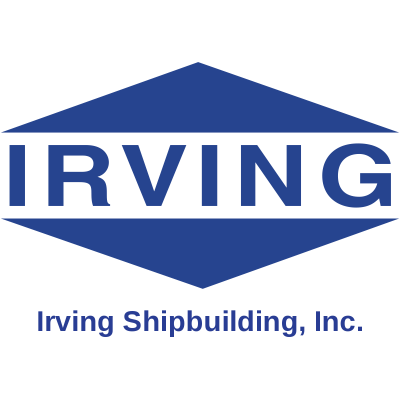 Modeling and Simulation Specialist
Irving Shipbuilding
in Halifax, NS
Modeling and Simulation SpecialistLocated in Halifax, Nova Scotia, Canada, Irving Shipbuilding has a proud history as Canada's shipbuilder. A proud member of the J.D. Irving, Limited family of companies, we have been building quality vessels and fabricated modules for more than 50 years, and our Halifax Shipyard has been at the forefront of Canadian shipbuilding for 130 years.
Since 2012, we have invested more than $400 million in facilities, people, processes, and technology, making Halifax Shipyard one of the most modern and capable shipyards in the world.
Over the next 30 years our shipbuilders will construct 23 modern patrol ships and surface combatants for the Royal Canadian Navy as part of Canada's National Shipbuilding Strategy, the largest defence procurement in Canadian history.
This year, we will deliver the lead Arctic and Offshore Patrol Ship, the largest Navy ship built in Canada in 50 years. And we're just getting started.
We're growing our team with career-defining opportunities that will revitalize Canada's shipbuilding industry and provide Canada's sailors with the ships they need to protect Canada's interests at home and abroad. Our workforce of over 2,000 will grow to more than 2,800 at peak construction of the Canadian Surface Combatants.
We have built more than 80% of Canada's current combatant fleet and continue to perform maintenance and modernization work on the ships, including the Halifax-class frigates.

The Modelling and Simulation Specialist will fulfill a key role in the ISI Canadian Surface Combatant (CSC) Project Combat System Team. This position will be responsible for assessing the subcontractor's Modelling and Simulation (M&S) and M&S Verification Validation and Accreditation (VV&A) processes. This position will also be responsible for executing the corresponding processes within ISI and ensure that they are conducted in accordance with the overall CSC Project engineering management plans.
The M&S effort will include such areas as the analysis of combat system performance, platform performance, topside design, ship's signatures, human factors, and supportability. All M&S capabilities that have undergone VV&A will be incorporated into the CSC Synthetic Ship to represent the integrated system capabilities and characteristics as design progresses. The successful candidate will ensure that Synthetic Ship will be employed to support the CSC design process, associated decisions, and ensure it evolves into the required integration and test tools and facilities.
To fulfil this role the M&S Specialist will provide demonstrated knowledge and experience in the above areas, with an ability to effectively discuss these topics with specialist staff representing the Royal Canadian Navy, the CSC Warship Designer (WD), and the CSC Combat System Integrator (CSI) to ensure that compliant solutions are delivered to the Royal Canadian Navy (RCN).
Responsibilities:
Assisting the Combat Systems Manager with:

participating in the CSC Working Group structure to coordinate and manage all RCN, ISI, WD, and CSI stakeholder M&S interests;
providing knowledge and insight into naval systems, development of corresponding M&S capabilities, their VV&A, application, and analysis of results;
monitoring and evaluating the M&S efforts of the CSC Warship Designer, the Combat Systems Integrator, and other subcontractors to ensure that their respective M&S capabilities and VV&A processes are fit-for-purpose, and that their models and input data are being applied appropriately, and resulting data is interpreted and reported correctly;
employing M&S outputs to provide engineering guidance as follows during design, integration, and test activities as required to achieve fully compliant, safe, and certified CSC solutions:

assessing integration risks;
conducting design verification;
informing major project decisions;
providing evidence of design maturity;
planning, de-risking, and predicting the outcomes of large-scale live acceptance tests;
demonstrating compliance with technical requirements and operational needs that would impractical to conduct with actual systems in a live test;
quantifying Measures of Effectiveness and Measures of Performance;
assessing the impact of design changes;

liaising with both RCN and Sub-contractor M&S specialists to evaluate models, VV&A, input data, and results in terms of their suitability for use in the CSC Project engineering process, and resolving associated issues;
developing, documenting, and evaluating deliverables related to M&S plans and reports, and all other deliverables that incorporate M&S results;
liaison with the WD, CSI and OEMs to extent of contractual and IP boundaries to transfer as much M&S knowledge to ISI as possible;
developing, documenting, and evaluating ISI governance plans, procedures, and processes related to M&S project activities;
planning, scheduling, coordinating, and conducting M&S activities to ensure that related program milestones are met; and

preparing accurate status reports on assigned M&S activities.

establishing and maintaining strong working relationships with internal (Shipyard Production, CSC Program personnel) and external stakeholders (subcontractors and Canadian government staff); and

supporting a culture of teamwork, pro-activeness, and enthusiasm within the overall Combat Systems team, and be a role model for professional behavior.
Qualifications:
A Bachelor's Degree in Engineering, Mathematics, or Physics.
A minimum of five years' experience in the following fields:


Direct involvement in design, integration, and test of complex integrated combat and platform systems, and the use of synthetic environments;
Direct involvement in modelling complex integrated combat and platform systems employing multiple M&S applications;
Understanding the operational employment of integrated weapon system; and
Excellent time management, written, and oral communication skills.
All successful applicants must meet requirements for Canadian Controlled Goods Program (CGP), Canadian Government Security clearance, and U.S. International Traffic in Arms Regulations (ITAR).
What We Offer:
Irving Shipbuilding is proud to offer a competitive salary and benefits package, including but not limited to medical, dental, and vision
To Apply for this Career Opportunity:
We appreciate your interest in our company however only those candidates selected for an interview will be contacted.
To learn more about our products and services, click
here
.
Irving Shipbuilding Inc. is committed to the principle of equal opportunity in its employment practices and to providing an environment free from discrimination and harassment for all employees.
We do not accept unsolicited resumes from search firms or employment agencies, and we are not responsible for any fees related to unsolicited resumes.