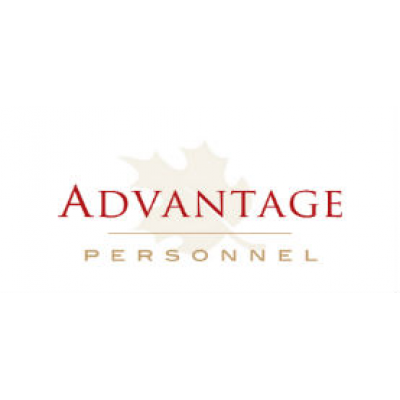 Prep Cook
Advantage Personnel
in Moncton, NB

We are currently looking for Prep Cooks for our client in Moncton, NB. This is a fantastic company to get in to as it is a part time position that can turn into a permanent position. Our client is looking for hardworking and dedicated cooks to join their growing team.
Job Type: Part Time
Hourly Rate: $12.95/hour
Shift: Usual start time 8:00 am, shifts 4-8 hours, Set Dates
Responsibilities May Include But Not Limited To:

Responsible for preparing and serving a multitude of hot and cold menu items

Prepare and assemble hot and cold food, in preparation to be served to customers

Some cleaning and caring for kitchen equipment, tools and machinery
Job Requirements:

This position may require lifting weight of up to approximately 50 lbs.

One to three months on the job learning is necessary to fully understand the business, procedures, products, and all areas of responsibility and functions of this position.

The incumbent is exposed to constant noise and cleaning/ chemical substances used in the workplace. The incumbent will need to be flexible in altering shift work to meet event and operational demands.

Typical stressful conditions involved in this position include working with demanding guests

Use proper lifting, bending, pushing and pulling techniques

Work within a 24/7 operation with ability to work flexible hours when required (days, evening, nights, weekends and holidays)

Willing to submit to a criminal record check with results acceptable to our organization, standards and position, and/or obtain and maintain an NBLGC license registration

Must have employment eligibility in Canada
Knowledge and Skills Required :

The incumbent is required to have basic food preparation knowledge and previous cooking experience of 1-3 years in a medium to large volume foodservice operation including hot and cold food preparation. Previous buffet experience, as well as a post-secondary education in a recognized Hospitality, Culinary Management programs or similar would be an asset.

The incumbent will have a minimum of 1-3 year's ongoing experience in a 2nd cook's position with practical hands on knowledge and experience of medium to large size foodservice operations.

Excellent interpersonal and communication skills are required in order to promote maintain and deliver impeccable service standards at all times when dealing with the public.

Previous experience in preparing and cooking a wide variety of food styles would also be considered an asset.

The skill requirements for this position include customer service, teamwork and cooperation, communication, self-development and initiative, valuing diversity, integrity and building trust, achieving quality results, technical/professional knowledge.

Work to create customer-focused service & solutions

Working effectively to accomplish organizational goals; taking action that respects the needs and contributions of others, contributing to and supporting consensus

Expressing ideas and listening effectively, both verbally and non-verbally, to achieve understanding. Sharing information; giving feedback.

Self-starting; seeking out and/or willingly accepting assignments, responsibilities and challenges.

Respecting diversity for the benefits of individual employees, the organization and the community as a whole.

Demonstrating integrity in all decisions, communication and actions; modeling the values of the organization in the conduct of all business activities.

Keeping abreast of current development, organizational policies, and trends in the area of expertise.

Bilingualism (French/English) is an asset
How to Apply:

**APPLY ONLINE**
http://avionte-portal.onyourteam.com/Avionte/portals/main.aspx?App=1&CompanyID=ADV
(Please select Moncton as the closest Branch to you)
Interested and qualified candidates please send your resume to Sara Ferriss or Janie Hachey at Moncton@onyourteam.com or call the office at 506-383-8880. In the subject line please quote: "Prep Cook"

Please note that only successful applicants will be contacted for an interview.
Be the first to know! Always find our latest job postings here: www.onyourteam.com
Thank you in advance to everyone who applies.